Consider adopting a textbook for your course/subject/unit. Follow some easy steps to adopt open textbooks for your teaching.
Let us know if you have adopted an open textbook. 
Take advantage of the open textbook Creative Commons license and customize an open textbook to fit your specific needs.
Contact your representative to discuss options for adaptation.
Featured Textbook
Australian Politics and Policy

"Completely customisable, open access textbook on Australian politics, Australian Politics and Policy.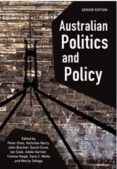 With an online database of 40 chapters, the book innovatively enables instructors to compile a bespoke edition to suit their teaching needs, or to include individual chapters in course readers.
Contributions from Australia's leading politics and public-policy scholars.
Peer-reviewed to ensure the highest standards."
Discover how this open textbook is transforming the teaching of Australian politics and policy.
CC BY-NC-SA 4.0
Open Educational Practice Special Interest Group
(OEP-SIG)
The Open Educational Practice Special Interest Group (OEP-SIG) provides practitioners, researchers and advocates a platform for collaboration, support and development at both the individual and institutional levels and create a strong community of practice and representation for OEP in Australasia.
Join the OEP-SIG to keep up to date with new developments.
Ed Talks: Open Education Resources
James Glapa-Grossklag visited RMIT from the College of the Canyons in Southern California to talk to us about the importance of Open Educational Resources (OERs). As the Dean of Educational Technology, he says that OERs can benefit all students and all learners.
OERs are openly licensed learning materials that can be repurposed, shared, copied and edited to allow easier sharing of information and "remove barriers to student success", such as the main barrier of cost.